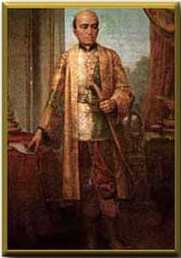 KING BUDDHA LOET LA NABHALAI ( RAMA II ) 1809 - 1824
---
King Phra Buddha Lertla Napalai, the 2nd King of the Chakri Dynasty, he was the son of King Rama I. He born at Rajaburi on February 26, 1768 he accompanied his father on military campaigns as a young man. He was 16 when his father ascended the throne and was immediately created a Prince of the rank of Somdetch Chao Fa and given the name of Isarasundorn. Appointed Maha Uparaja [ or Deputy King ] by his father in 1806, he was the only Maha Uparaja to eventually succeed to the throne during the period of the Chakri Dynasty. He became king on the death of his father [at the age of 42 ], King Rama I. His reign was a period of consolidating the achievements of the previous reign and he began the custom of appointing senior princes to supervise over the different departments of state. He is best remembered though for his interest in the <!a href="/Thailand/art/arts.html">arts . He was an artist, writer, composer, which flourished during his reign. He died on July 21. 1824 [ at the age of 58 ].
During his rule, the country was relative at peace with neighboring countries. It was, therefore, an ideal time to build up the country, or to pick up where his father, King Rama I , had left off in addition to fortifying what had already been undertaken previously. King Phra Buddha Lertla Napalai improved the administrative system, promoted religious, culture and introduced land reforms which stipulated that it was compulsory for anyone owning land, regardless of social status, to cultivate it otherwise it would be expropriated. The king also stated explicitly "Favor no one ... All land, no matter how big or small, must be surveyed accordingly and accurately so as not to be misappropriated.

'White Elephant King'

King Phra Buddha Lertla Napalai had three white elephants which is considered by Thais as being very auspicious. The populace rightly called him "White Elephant King". This is why all Siamese seagoing middle. Later on, this flag became the national flag.
King Rama II was a devout Buddhist and, consequently, orderd his subjects including members of the royal family and officials to shun all vices. He issued a royal decree stipulating very severe punishment for persons caught participating in any form of gamblinh such as cock-fighting, and fish-fighting. Punishment included flogging and then subjecting the person to puplic humiliation by hanging whatever hambling instrument he was caught with around his neck. King Rama II also revived the celebrations of Visakha Bucha - the day that Lord Buddha was born, enlightened and died. He revised the Buddhist Tripitaka by translating the chanting of prayers in Pali into Thai so that people would understand what they were reciting. He sent a mission of monks to Sri Lanka to study Buddhism in that country.
During his reign, King Rama II ordered the construction of many Buddhist temples such as Wat Paichayont Polsape, Wat Molilok Gayaram, Wat Prudgasachet Staram and Wat Arunraja Vararam. King Rama II personally modelled the pricipal Buddha imaged for the main chapel of Wat Arunraja Vararam. HRH Prince Narissara Nuvattiwongs commeted that the image has more grace and radiates more health and happiness than the ones previously created during rhe reign of King Rama I. These wats are lacated in Thonburi and have now turned out to be important landmarks, notably Wat Arun which is now one of the major attractions of Bangkok and is also wallknown all over the world.
The constructionof Wat Arun, or the Temple of Dawn as it is better known as, was not completed until the reign of King Phra Nangklow, Third King of the Chakri Dynasty and the third son of King Rama II. In terms of works of art, King Rama II was an accomplished artist espeacially in wood carving. Thee carved main door panels at Wat Rakang Kositaram and at Wat Suthasanathep Vararam are good examples of hes work. Both wooden panels depict vivid sceneries of mountains, forests, animals, etc.

A Brilliant Poet

Many of his own sculptures in the form of facial masks of ogres, monkeys, etc. are of characters from the Ramayana epic. They are permanently on display at the National Museum. He also improved the esthetic value of traditional Bencharong wares which are dyed wirh five primary colors: white, black, red, yellow, and green. Literary works during hae time were at their zenith since he himself was a brilliant poet. He composed many literary masterpieces as well as made improvements on old ones in both verse and dance rhythm. The Ramayana theme for the Khone ballet was readapted for common stage play.
King Rama II dud much to promote music both by improving musical instruments and introducing better ways to play them. He himself was an accomplished musician, espeacially with the three-string fiddle. His favorite fiddle was named "Sor Sai Fah Fad" (Lightning Fiddle). He composed the famous tune "Bulan Loi Fah" (Drafting Moon) which at one tome was used as the King's Anthem.
King Phra Buddha Lertla keenly concentrated on promoting culture not only because of his artistic inclinations but also because he wanted tp restore to the country rhe culture it lost after the Burmese overrac the old capital at Ayuthaya and destroyed or took away many objects of art.
During his 16 years of rule, the kingdom enjoyed harmony, peace and prosperity. The populace led lives in congormity with Buddhism and the wishes of their beloved manarch which centered around kindness and peace.
His many contribution to the country still remain as a living remainder of his kindness. It is the duty of all Thais to preserve such heritage and to vow that they will be loyal to the Chakri Dynasty with their hearts and souls.
Top
Return to the main page