King Buddha Yot Fa Chulalok (RAMA VII)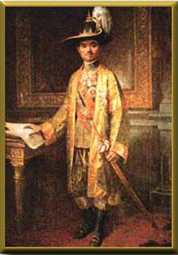 KING PRAJADHIPOK (RAMA VII) 1925 -1935
---
He born in <!a href="/Thailand/glance-thai/bangkok.html">Bangkok on November 8,1893. King Prajadhipok succeeded to the throne on the death of his elder brother, King Vajiravudh. He had not expected to become King--indeed until nine months before the death of King Vajiravudh the heir presumptive to the throne had been Prince Asdang Dejavudh, Prince of Nakorn Rajasima, and with his death in February 1925, Prince Prajadhipok became heir presumptive. However, King Vajiravudh's consort, Phra Nang Chao Suvadhana, was expecting a child, and had she given birth to a son he would have succeeded his father as Rama VII. The birth of a daughter took place two days before King Vajiravudh's death, and so it was that Prince Prajadhipok became king. His reign coincided with the worldwide economic depression which followed the Wall Street Crash of 1929 and its effects were not unfelt in Siam. On April 6, 1932 the country celebrated the sesquicentenary of the Chakri Dynasty--two months later a coup d'etat was staged with the eventual transferral of power to a Legislative Assembly. Thus the 150-year absolute rule of the Chakri Kings came to an end and the Constitutional Monarchy of the present day was born. On December 10, 1932 King Prajadhipok granted a constitution to the Thai people and just over two years later, on March 2, 1935, having gone to live in England in order to receive medical treatment, he abdicated the throne. Kingi Prajadhipok died in England on May 30,1941, during World War II, and his ashes were brought back to Bangkok by his widow, Queen Rambhai Barni, in 1949.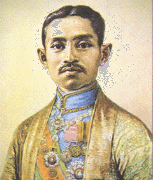 Top
Return to the main page
"RATTANAKOSIN BICENTENNIAL" An Iiiustrated Book on Historical Events, published by KURUSAPHA BUSINESS ORGANIZATION, 1982.

KING BUDDHA YOT FA CHULALOK, Mahidol University, "http://www.mahidol.ac.th"