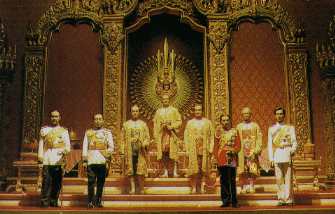 THE ILLUSTRIOUS CHAKRI FAMILY
---
Before Bangkok became Thailand's centre of government, a number of city-states formed loosely organized principalities. Since culture and religion did not have absolute power, military might determined which state was chief within the larger area. Only since the beginning of the Bangkok period have the Thai states been unified into a unitary nation.
In A.D.1782 when King Phra Buddha Yodfa Chulaloke accepted the invitation of the officials and the people to ascend the throne as the first king of the Chakri Dynasty, he moved the capital to the east bank of the Chso Phraya River, From Thon Buri where the palace stood at a bend of the river and was threatened by erosion. Besides, it was not possible to extend its precincts, as it was sandwiched between two monasteries.
Thus he moved the city and its palace across the river to a site that was strategically supperior. The ceremony of raising the City took place on the 21st of April A.D. 1782 at 6:54 a.m. The building of many palaces and temples followed. Some of them have since been pulled down, but many remain today much as they were 200 years ago.
Bangkok was originally moated and walled with forts at intervals along it. The moat was formed by a canal dug at a distance of about two kilometres from the Royal Palace, leaving the river to the north of the city and rejoining it to the south. It is 7.2 kilometres long, and it is today called Klong Bang Lamphu and Khlong Ong Ang. Strong and solid walls were constructed along the inner side of this canal, being 3.6 metres high and 2.7 metres thich, broken by 16 gates and 16 forts, two of which now remain as histiric monuments on the 200 metres, remaining of the wall, namely, Fort Mahakan and Fort Phrasumen.
As for the religion, every Thai king is a devoted Buddhist and patron of all religions. One of his important duties is to promote Buddhism and at the same time to encourage the other religios of his people. Thus the renovation of the old temples and build new ones have been the characteristic tradition of the kingdom and her society upto now.
Buildings of bricks and mortar which resemble western architecture were first built during the reign of King Rama IV and became popular since. They are government office buildings and stores.
Top
Return to the main page