THONBURI KINGDOM
<!TD valign="top" bgcolor="#7BBDFF" leftmargin="5" WIDTH=450>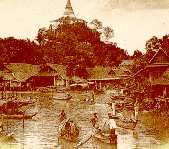 THONBURI
---
Thonburi was founded by a Thai general named Phraya Taksin, who was later crowned King Taksin Maharaj. After the fall of Ayutthaya to the Burmese in 1767, Thonburi, situated on the west bank of the Chao Phraya opposite what is now the City of Bangkok, became the new Thai capital.
---
Top
Back to Main Web
THONBURI, see also web maintainer www@mahidol.ac.th.

"RATTANAKOSIN BICENTENNIAL" An Iiiustrated Book on Historical Events, published by KURUSAPHA BUSINESS ORGANIZATION, 1982.