<!A HREF="donjede.htm">

Chedi or Koo built by initiative of Princess Dara Rasmee, the royal consort of King Rama V to contain the relics of Chao Chet Khon Family, the royal family ruling Chiang Mai
---
Chiang Mai City was founded in 1296 A.D. by King Mengrai and was ruled in succession by 20 kings of the Mangrai Dynasty before the Burmese finally attacked and conquerred the city in 1558. The period of 262 years was not considered long in the life of Chiang Mai, but the city had to send gold and silver flowers as tribute to Burma for the next 216 years. The Burmese evidently had military strength but they failed to promote arts and culture and people of the Lanna Kingdom made great efforts at times to liberate themselves from the Burmese.
Phaya Cha Ban of Chiang Mai persuded Chao Kawila, the son of Prince Chai Kaeo of Lampang City, to join his resistance forces against the Burmese while even troops were sought from King Taksin of the Thonburi Kingdom. Chiang Mai wasfinally won back by Chao Kaawila in 1774 and Phaya Cha Ban was appointed Phaya Wichian Prakan, the first Chiang Mai Governor. Chao Kawila was appointed Phaya Kawila, Lampang Governor, in theThonburi Kingdom.
Chiang Mai was again invadedby the Burmese many times and as a result, the people migrated to other cities, leaving their ricefields behind and their villages become overgrown by the jungle and a natural habitat for wildlife. Phaya Cha Ban decided to leave for Tha Wang Phrao so that without a leader, Chiang Mai City lacked stability. Phaya Kawila was later appointed Chiang Mai Governor by Rama I of the Rattanakosin Period. He tried to rehabilitate Chiang Mai and persuaded old residents to return and live in the city. Phaya Kawila had to muster forces at Wiang Pa Sang for 20 years before being able to move his army to Chiang Mai City in 1976 and turn the deserted city into the center of the Lanna Kingdom. King Kawila had seven brothers and three sisters who made up the Royal family ruling Chiang Mai, Chiang Rai, Lumphun and Lampang. This royal family is often referred to as the 'Chao Chet Khon Family, which originated the family name of 'Na Chiang Mai' and King Kawila is considered the first monarch of Chiang Mai and his dynasty consisted of nine kings as follows: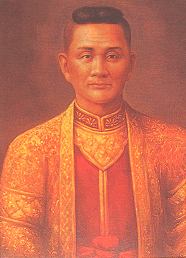 King Kawila พระเจ้ากาวิละ
1. King Kawila, the First Chao Luang (1781-1816)
King Kawila, the first child of Prince Chai Kaeo and Princess Chanthathewi of Lampang, succeeded in defeating the invading Burmese when he was 40 years old. He was appointed Phraya Mangrao Wachira Phakan Kamphaeng Kaeo, the ruler of Chiang Mai, by King Rama I. He mustered forces from 300 to 700 strong and established his stronghold at Wiang Pa Sang (presently Pa Sang District of Lmphun), from where gathered the people from many cities to come and live in Chiang Mai. King Kawila began to restore Chiang Mai which had been left deserted for 20 years. Later King Rama I promoted King Kawila as 'the King of Chiang Mai' governing 57 regional towns. Due to his long hard struggles amidst the many wars, King Kawila finally passed away at the age of 74. He had ruled Chiang Mai for 32 years.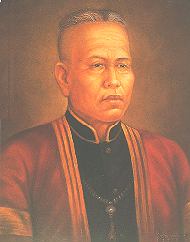 Chao Luang Thammalangka เจ้าหลวงธรรมลังกา
2. Phraya Thammalangka, the Second Chao Luang (1816-1821)
Phraya Thammalangka, the third child of Prince Chai Kaeo and Princess Chanthathewi, served as King Kawila's assistan and was appointed Crown Prince of Chiang Mai. Following the death of King Kawila, he ws appointed King of Chiang Mai at the age of 70 and attached great importance to religious affairs and renovation of Chiang Mai.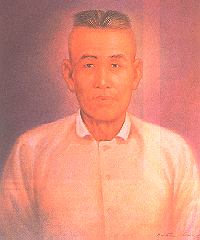 Chao Luang Setthi Kham Fan เจ้าหลวงเสฎฐี คำฝั้น
3. Chao Luang Setthi Kham Fan, the Third Chao Luang (1823-1825)
The eighth child and the sixth son of Prince Chai Kaeo and Princess Chanthathewi, Chao Luang Setthi Kham Fan served as assistant to the two previous kings. He also played a vital role in protecting the city from Burmese invasion and turning deserted Lamphun into a prosperous city once again. He was crowned King when he was 67 years old, and ruled the city for only two years before he died. He had 20 sons and 24 daughters.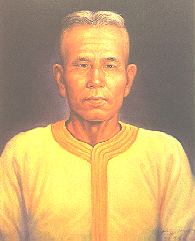 Chao Luang Buddhawong เจ้าหลวงพุทธวงศ์
4. Chao Luang Buddhawong, the Fourth Chao Luang (1825-1846)
Commonly referred to as 'Chao Luang Phaen Din Yen', King of the Peaceful Land, Chao Luang Buddhawong ruled Chiang Mai for 21 peaceful years and during his reign, Chiang Mai was not engaged in any war as the Burmese at that time had turned to fight against the British. Chao Luang Buddhawong was the first child of Nai Pho Ruan, who was Prince Chai Kaeo's brother. He joined King Kawila's army and was known to have developed Chiang Mai with a new administrative order based on intellect rather than strength. Chiang Mai then became peaceful once again and made contacts with other nationalities such as the British.
Next click you'll see Chao Luang Chiang Mai (2)
Top
Return to the main page