KING ANANDA MAHIDOL (RAMA VIII)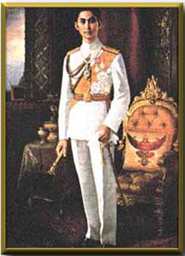 KING ANANDA MAHIDOL (RAMA VIII) 1935 - 1946
---
Was born on September 20,1925,the elder son and second child of H.R.H. <!a href="/mahidol/songkla.html">Prince Mahidol Adulyadej, Prince of Songkla. He succeeded his uncle, King Prajadhipok, as King on March 2, 1935. King Ananda Mahidol spent his early years in Switzerland, receiving his education there and made occasional trips to Thailand. He returned to Bangkok after the end of World War II, but his life and his reign cam to an abrupt end when he died, on June 9, 1946. King Ananda Mahidol was never crowned and shortly after his death his younger brother and successor, King Bhumibol Adulyadaj, post-humously altered his regnal title and raised him from seven to nine levels of royal umbrella, as a fully crowned and anointed sovereign.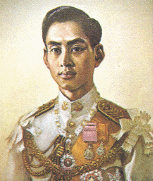 Top
Return to the main page
"RATTANAKOSIN BICENTENNIAL" An Iiiustrated Book on Historical Events, published by KURUSAPHA BUSINESS ORGANIZATION, 1982.

KING BUDDHA YOT FA CHULALOK, Mahidol University, "http://www.mahidol.ac.th"